ATEX LED EXPLOSION PROOF LIGHT 
Our ATEX certified lighting product range is designed for applications in wide range of business types. Whether you require a Zone 1, Zone 2, emergency, portable solution, with complete certification such as UL844, ATEX, IECEX, CNEX, CUL, DLC, CE, ROHS, SAA, C-TICK , ECT. Long life span & 5 years warranty. We will have the right product to meet your requirements. Do you want to talk about your requirements?


ATEX LED EXPLOSION PROOF FLOOD LIGHT
This LED Explosion Proof Flood Light can provide general illumination in hazardous locations such as oil refineries, gasoline loading docks, distilleries, pumping stations, mines,vessels, paint manufacturing plants and other high humidity, high temperature, dusty locations.
Standard for Safety:
UL844, Luminaires for Use in (Classified – Class I Division 2) Hazardous Locations
CSA C22.2 No. 137-M1981, Luminaires for Use in Hazardous Locations
UL1598A for Marines Environments
ATEX Zone 1 / 21 – DEMKO 18 ATEX 1765 Rev.0
IECEX UL 18.0046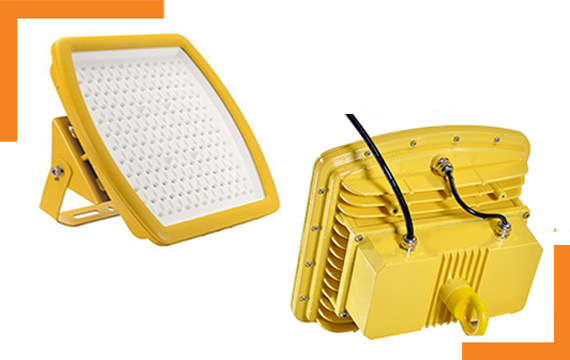 ATEX LED EXPLOSION PROOF HIGHBAY LIGHT
These Explosion proof High Bay lighting, Class 1 Div 1 LED lighting fixtures are designed to be used in locations made hazardous by the presence of flammable vapors, gases or combustible dusts as defined by the NEC and IEC. EX MARK:Ex demb II C T6 Gb
Class 1 Div 1 LED lighting fixtures are ideal for replacing existing HPS/MH hazardous location fixtures / explosion proof high bay lighting fixtures, offering higher efficacy, increased energy savings & lower maintenance costs.
ATEX LED EXPLOSION PROOF LINEAR LIGHT
ATEX LED EXPLOSION PROOF LINEAR LIGHT are designed to light indoor and outdoor areas in zone 2 of explosion hazard of gas, vapours, or clouds of flammable liquids mixed with air which belongs to IIA, IIB or IIC explosion group, T1-T5 temperature class. luminaires are also suitable to light areas in zone 22 of explosion hazard of dust and flammable fibres mixed with air which self-ignition temperature is higher than 150°C, and the temperature of glowing is higher than 175°C.

ATEX LED EXPLOSION PROOF EMERGENCY SIGNAL LIGHT
LED Explosion-proof emergency sign light rate for Class I Division 1&2, Class II Division 1&2, and is ideal emergency exit marking solution for hazardous locations where fail safe reliability is a must.
It has back up emergency ballast, it uses normal external power to illuminate 3-5W LED under normal conditions. In any situation where power is interrupted, it'll automatically switches to a battery backup model which will power for 3 hours or until power is restored.
CESP Explosion proof LED Lights for Hazardous Location