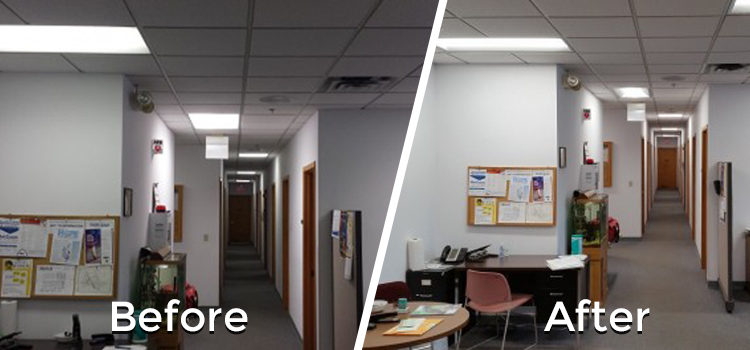 Office Lighting Retrofitting (Before And After)
Goal:
Improve office lighting aesthetics and light quality with a solution that also saves energy.
Assessment:
This office had 2×2 and 2×4 lay-in fixtures with T12 lamps. The fixture housings were in good shape, but the lenses were faded therefore affecting the light output and aesthetics of the office. In addition, T12 lamps and ballasts have been phased out of production due to their inefficiencies so at some point they would have to replace those.
Solution:
Retrofit the 2×2 and 2×4 T12 fluorescent fixtures with a CESP LED panel light with two sizes. The reason for the LED Panel light source is to provide a more uniform level of illumination.
Summary:
Reduce Energy Usage
Increased Light Quality
Increased light levels
Longer Lasting Products = Reduced Maintenance Costs
Light Level and Color Uniformity
Enhanced Image
If you are interested in the optimal lighting solution for your facility, please send an email to cespservice@gmail.com to get started.